Mirrors are a highly versatile tool for interior design–they can be used for anything from brightening a room's atmosphere to creating an optical illusion. Adding mirrors to a space can dramatically transform its overall look and feel, and the style, shape, and size of your mirrors can all be used to create different effects. The possibilities for mirrors in your design scheme are virtually endless, but to get you started, our team at Residential Building Specialties, Inc. has prepared a few suggestions.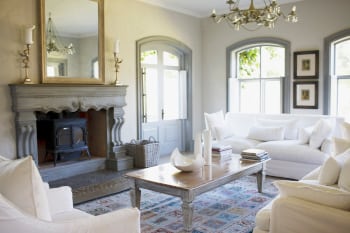 Create a Focal Point- Mirrors make an effective and eye-catching focal point for any space. Their sheen naturally draws the eye, and this effect can be further enhanced by choosing a mirror with extra visual interest, such as one in a beautiful antique frame, or one made to look like a sunburst. Using mirrors is a great way to break up visual monotony in a blank wall, and can also enhance existing focal points–for example, by hanging an attractive mirror above your mantelpiece.
Make Your Space Feel More Open- A tried-and-true interior design trick is to use mirrors to make small spaces look and feel larger than they are. The reflection in a mirror can make a space appear twice as big, which makes mirrors a great choice for dealing with cramped quarters or to use in rooms where you want to impress guests. Mirrors also add to that expansive feel by bouncing light around the room, creating a brighter, airier atmosphere.
Bring in the Outdoors- Mirrors can also be used to bring the beauty of the outdoors into your home. If you have a view you enjoy outside your windows, you can bring that scenery into your home by arranging a few mirrors on the opposite wall. You'll get to appreciate the landscape twice and enjoy the view even when it's too hot or cold to experience it directly.
If you'd like more suggestions on how to use mirrors in your interior design, you can contact our team at Residential Building Specialties, Inc. to hear from our experts.